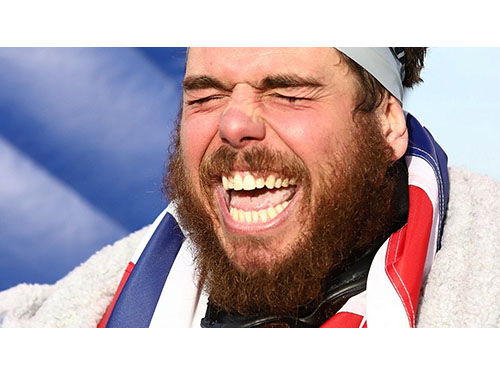 Britas atletas sekmadienį išlipo iš jūros į krantą Anglijoje, tapęs pirmuoju žmogumi, palei pakrantę apiplaukusiu Didžiąją Britaniją.
33 metų Rossas Edgley (Rosas Edžlis) vandenyje praleido 157 dienas ir įveikė 2 883 kilometrus. Jis plaukdavo po šešias valandas, o nakvodavo jį lydėjusiame palaikymo komandos laive.
Paskutinę mylią sportininkas įveikė lydimas šimtų kolegų plaukikų. Į krantą jis išlipo pietryčių Anglijoje esančiame Margeite – būtent čia R. Edgley birželio 1 dieną pradėjo savo kelionę.
Sportininkas, planavęs suspėti per 100 dienų, ant kranto jį pasitikusiems artimiesiems pasakė: "Atleiskite, vėluoju."
Jis sakė, kad išlipęs į krantą pirmiausia pajuto palengvėjimą.
"Man buvo labai neramu, kad mano kojos neatlaikys", – pasakojo atletas.
Pasaulio plaukimo atviruose vandenyse asociacija nurodė, kad R. Edgley per šį ištvermės išbandymą, kurio rėmėja buvo energinių gėrimų "Red Bull" gamintoja, ne kartą teko susidurti su itin nepalankiomis oro sąlygomis, be to, atletą net 37 kartus nudilgino medūzos.
Organizatoriai skelbia, kad R. Edgley dvigubai pagerino ilgiausio plaukimo su pertraukomis jūromis rekordą, kuris iki šiol buvo 73 dienos. Jis taip pat pasiekė naują rekordą, greičiausiai įveikęs atstumą tarp piečiausio ir šiauriausio Didžiosios Britanijos taškų – Lands Endo kyšulio ir Džon O'Groutso. Šį atstumą sportininkas įveikė per 62 dienas.
Londonas, lapkričio 5 d. (AP-BNS).
Naujienų agentūros BNS informaciją atgaminti visuomenės informavimo priemonėse bei interneto tinklalapiuose be raštiško UAB "BNS" sutikimo draudžiama.