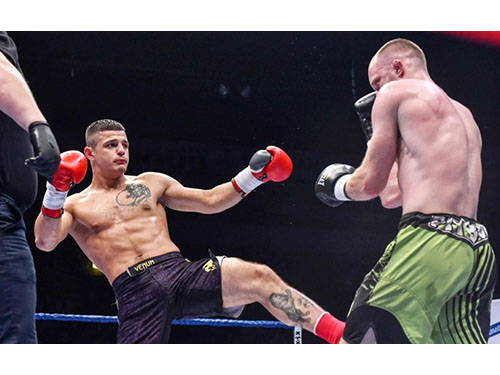 "Ringe tikrai nieko naujo nepamatysiu, – nusišypso kovotojas Igoris Osininas. – Tiesiog džiaugiuosi man suteikta galimybe sportuoti, tobulėti ir ruošis kovoms".
"Sparta Gym" auklėtinis šiuo metu įtemptai ruošiasi lapkričio 17 dieną Vilniuje, "Siemens" arenoje vyksiančiai kovai "HERO'S KOK WORLD SERIES" turnyre. Ringe jis susitiks du daugkartiniu Lenkijos bei pasaulio pilno kontakto kikbokso čempionu Sebastianu Samila.
"Pasiruošimas vyksta įtemptai, – teigė kovotojas. – Šiuo metu su visa komanda ruošiamės tiek fiziškai, tiek techniškai. Žinoma, kiekvienas atskirai ruošiamės psichologiškai. Tiesą pasakius, man nesvarbu, su kuo kovoti ringe. Niekada nesiruošiu vienam ar kitam kovotojui. Mano treniruočių partneriai yra labai stiprūs, todėl man nėra skirtumo, ką sutiksiu ringe. Man svarbiausia, kad esu ringe".
Apie savo būsimą varžovą I.Osininas iki šiol daug nežino. "Bet man tikrai nerūpi, kokius titulus turi mano varžovas. Nemeluoju, – nusijuokė kovotojas. – Einu kovoti savo malonumui. Juk mėgstu tai, ką darau".
Paklaustas, ko tikisi iš būsimos kovos, I.Osininas atsakė atvirai: "Tikiuosi, kad viskas baigsi be traumų. Tiek man, tiek mano varžovui".
"Šiame turnyre būsiu savimi, darysiu viską, ką moku, – kalbėjo I.Osininas. – Stipriosios mano pusės? Manau, tik po kovos galėsiu atsakysiu į šį klausimą. Neturiu jokios baimės. Juk žmonės kiekvieną dieną eina į darbą ir nebijo. Todėl ir aš į ringą žengiu tarsi į darbą. Jaučiu tik malonumą. Kokia gali būti baimė?"
Kovotojas prisipažino, kad iš publikos tikisi palaikymo bei geros energijos.
"Žinau, kad bus kritikos po kovos, tačiau būsiu dėkingas ir už ją. Esu dėkingas visiems ir palaikantiems, ir kritikuojantiems", – sakė I.Osininas.
Vilnius, lapkričio 7 d. (BNS).
Naujienų agentūros BNS informaciją atgaminti visuomenės informavimo priemonėse bei interneto tinklalapiuose be raštiško UAB "BNS" sutikimo draudžiama.