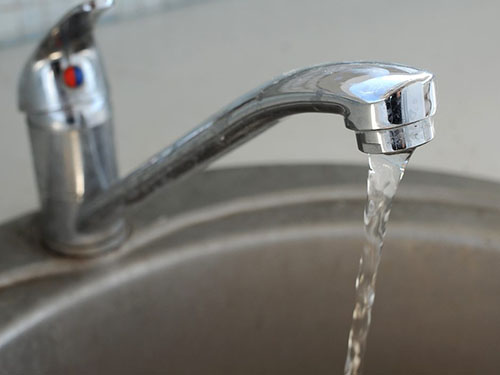 Pradėjus tikrinti gyventojų vartojamą vandenį jau trečioje savivaldybėje aptikta arseno.
Jurbarko rajono Šimkaičių miestelio geriamajame vandenyje arseno kiekis viršija leistiną normą, jis siekia 15 mikrogramų litrui (µg/l), norma yra 10 mikrogramų.
"Gyventojams vandenį, tiekiamą centralizuotais vandentiekio tinklais iš gręžinio, gerti bei naudoti maisto ruošimui griežtai draudžiama. Vandenį galima naudoti tik buitinėms, techninėms reikmėms", – pranešė "Jurbarko vandenys".
Šimkaičių seniūnė Elena Šileikienė BNS antradienį sakė, kad apie blogus vandens tyrimo rezultatus sužinota pirmadienį, iškart apie tai informuoti gyventojai.
"Greitai apibėgome gyventojus, įspėjome, kad negertų to vandens", – sakė seniūnė.
Jos teigimu, "Jurbarko vandenys" atvežė konteinerį su saugiu geriamuoju vandeniu. Jis pastatytas mokyklos kieme, vandentiekio vandenį vartojantys šimkaitiškiai turi eiti jo atsinešti.
E. Šileikienės duomenimis, miestelyje vandentiekio vandenį vartoja apie 60 abonentų.
Dar paimti vandens mėginiai pakartotiniam tyrimui. Jeigu ir jis patvirtins, kad arseno kiekis viršija leistinas normas, seniūnės teigimu, savivaldybė turės ieškoti išeities iš situacijos.
Praėjusią savaitę pranešta, kad arseno geriamajame vandenyje rasta dviejuose kaimuose netoli Marijampolės. Pernai vasarą šio metalo aptikta Raseinių rajono vandenvietėse – išgręžus naujus gręžinius, šiemet metalo kiekis normų neviršijo, tačiau buvo gerokai padidėjęs.
Arsenas – organizme linkęs kauptis sunkusis metalas. Jis gali sukelti mažakraujystę, galvos skausmus, kvėpavimo takų ligas, nuplikimą,arseno sukeltos ligos gali pasireikšti ne iš karto. Arsenas į aplinką patenka iš chemijos, farmacijos, elektronikos, tekstilės, optikos, energetikos, trąšų pramonės įmonių ir jų gaminių. Šio sunkiojo metalo yra ir akmens anglies pelenuose.
Autorė: Jūratė Skėrytė
Vilnius, spalio 30 d. (BNS).
Naujienų agentūros BNS informaciją atgaminti visuomenės informavimo priemonėse bei interneto tinklalapiuose be raštiško UAB "BNS" sutikimo draudžiama.